Supermom from India and six times world champion MC Mary Kom won a gold medal in the 23rd President's Cup held in Labuan Bajo, Indonesia on Sunday.
She beat Australia's April Franks 5-0 in 51kg final bout very comfortably.
The 36-year-old Indian didn't need to break any sweat in the final and completely dominated the Australian.
Mary Kom had also won a gold medal at the India Open Boxing Tournament in May this year, but did not take part in the Asian Championship to prepare for Olympic Qualifications. She participated in this tournament to have some preparation before the world championship.
Mc Mary Kom will now try to qualify for the Tokyo 2020 Olympics (Asian Qualification tournament which will be held at Jan 2020) and also won a medal at World Boxing Championships for women which will be held from September 7 to 21 in Yekaterinburg, Russia.
She expressed her joy through Twitter sharing the video of medal ceremony.
Gold medal for me and for my country at #PresidentCup Indonesia. Winning means you're willing to go longer,work harder & give more effort than anyone else. I sincerely thanks to all my Coaches and support staffs of @BFI_official @KirenRijiju @Media_SAI pic.twitter.com/R9qxWVgw81

— Mary Kom (@MangteC) July 28, 2019
It also proved super Sunday for Indian boxers. Besides Mary Kom, Seven other boxers claimed gold medal in their respective categories
President Cup: India end with 7 Gold And 2 Silver

Neeraj Swami beat MAcado Jr of Philippines 4-1 in men's 49kg category final. This was the maiden gold medal in his career.
Also Read: Indian Olympics Qualification Schedule
Ananta Prahlad Chopade defeated Afghanistan's Rahmani 5-0 in the final of men's 52kg category.
Monika won her second international gold medal defeating Endang of Indonesia 5-0 in women's 48kg category.
Jamuna Boro defeated Italy's Giulia L 5-0 in women's 54kg category. '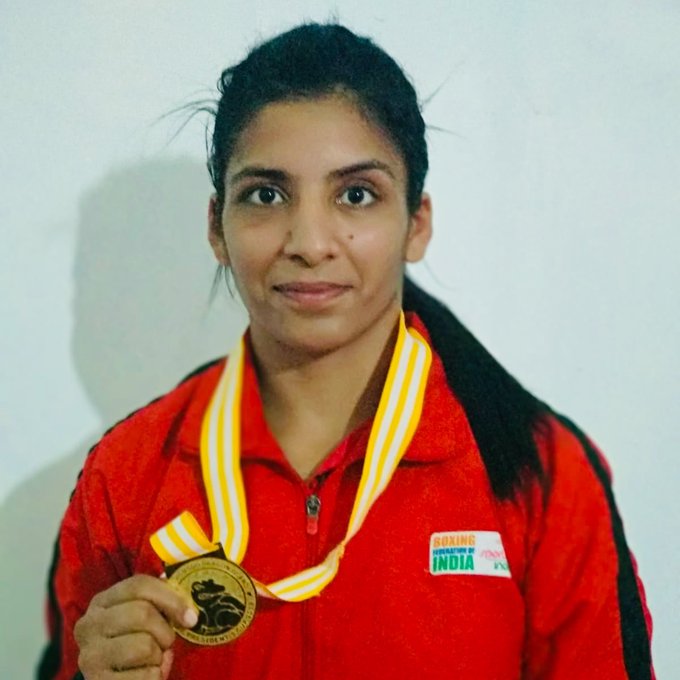 Simranjit Kaur won the gold medal defeating Hasanah H of Indonesia 4-0 in women's 60 kg category.
Ankush Dhahiya finished his President'sCup campaign on a high note by winning the gold medal, He defeated Leung Kin Fong by unanimous decision in the KG weight category.
Gaurav Bidhuri and gave their all in the ring but unfortunately were defeated in the finals.
India hopes to continue this spectacular performance in world championship also.
Sportstalk24 makes sure the users gets the best information about Live Cricket Score, Live football score, Sports Schedule and their favourite Sports Blog Posts.